How Much Does a Workers Comp Lawyer Cost?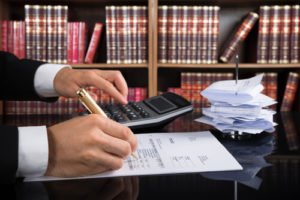 How Much Does It Cost to Hire a Workers' Compensation Lawyer in Portland?
People are sometimes reluctant to hire or even speak with a lawyer because they are afraid of the potential costs involved with pursuing legal action.
This fear may be particularly strong when it comes to Oregon workers' compensation cases. After all, if you are already unable to work and are facing a battle against your employer to obtain benefits, the last thing you want to do is take on debt for an attorney.
Let us put those financial fears to rest.
What all Oregon residents need to understand is that, at least when it comes to workers' compensation, the payment of attorney fees is strictly regulated by state law. No Portland workers' compensation attorney can charge you high fees upfront or demand payment if they do not actually help you win your claim. Indeed, in the vast majority of cases, you will not have to pay any out-of-pocket fees or costs to your lawyer.
Who Pays Attorney Fees?
So who does pay for your lawyer? The answer depends on how your workers' compensation claim is ultimately resolved. In some situations the insurance company that provides workers' compensation coverage to your employer – or the employer itself, if it self-insured – will pay your attorney's fees. In other cases requiring adjudication by the Oregon Workers' Compensation Board, attorney fees and costs will be deducted from your final award. That means you never have to pay your attorney out of pocket.
Keep in mind that workers' compensation disputes involve much more than paying an attorney for her own time. There are frequently additional costs that are incurred in the course of litigation.
For example, you may need to put up an expert witness to testify at an administrative hearing about the extent of your work-related injury. You will also have to provide documentation to support the expert's opinion, which often incurs significant costs for reviewing and copying medical records and other files. There are also costs associated with deposing witnesses and filing various forms with the Workers' Compensation Board.
Your Portland workers' compensation attorney may bill you for these court costs as they occur, but they may defer demanding payment if you are unable to come up with the money right away. Once again, assuming your claim is successful, all of these litigation costs will be paid by the employer or its insurer or deducted from your final workers' compensation award.
What Is a Contingency Fee?
In essence, the law in Oregon is that all workers' compensation attorneys work on a contingency basis. This means that instead of billing you a flat fee per hour, the attorney will receive a fixed percentage of your final workers' compensation award as payment in full for all legal services rendered. The actual contingency fee is determined by the Workers' Compensation Board in accordance with state law.
When hiring a workers' compensation attorney, you will need to sign a retainer agreement, which your lawyer must file with the Board. A retainer agreement in this context does not obligate you to pay any out-of-pocket fees. Rather, it is simply a formality required by the Board so the attorney can be paid a contingency fee. Your attorney may also choose to submit hourly bills to the Board as part of the process of seeking compensation once your claim is resolved.
In general, the Oregon Administrative Rules say the Board should award a "reasonable" contingency fee after taking into account any or all of the following factors:
How much time your attorney spent on your case
The complexity of the legal issues that needed to be resolved
How much your claim was actually worth, and the final amount of the benefit you received
The relative skill and experience levels of your workers' compensation attorney
Whether either side raised "frivolous issues or defenses"
The overall nature of the proceedings
Caps on Workers' Compensation Attorney Fees in Portland, Oregon
Regardless of how the Board weighs the factors described above – and no matter how much time and expense your workers' compensation lawyer expended on your behalf – state law imposes maximum caps on any award of contingency fees.
Workers' compensation is a complex area of law, so there are different types of caps applicable to different proceedings and outcomes. But here is a brief overview of some of the more common scenarios.
For example, let's say you are injured at work and unable to return to work for several weeks. Your employer's workers' compensation insurer denies your claim for lost-time benefits. You hire an attorney and ask for an administrative hearing. The hearing officer – the administrative law judge – rules in your favor and orders to the insurer to pay your claim. In this situation, your attorney could seek fees of no more than 25 percent of the compensation you received.
The same 25 percent cap would apply if your attorney helped you obtain an increase in benefits. In other words, say that instead of denying your initial claim outright, the insurer offered you less than you thought you were entitled to under the law. If you seeking a hearing and prevail on that issue, your attorney's compensation would be limited to 25 percent of the increase.
Now, if your work-related injury leads to an award of permanent total disability benefits – that is, you can never work again – the 25 percent contingency fee cap still applies, although in no case can your attorney receive more than $20,000 from the award.
Of course, many workers' compensation cases are settled without the need for a hearing. Your attorney is still entitled to a contingency fee if she negotiates such a settlement on your behalf. However, the cap works a little differently. Your attorney may seek up to 25 percent of the first $50,000 from your settlement funds, plus 10 percent of any additional amount. So if your lawyer negotiates a $60,000 settlement, state law caps her contingency fee at $13,500 – 25 percent of the first $50,000 ($12,500), plus 10 percent of the remaining $10,000.
Contact a Portland Workers' Compensation Attorney Today
The last thing you should worry about when recovering from a serious on-the-job injury is paying for a lawyer. You should at least consult with a Portland workers' compensation attorney if you have any questions or concerns regarding the status of your claim and how you can pay for the legal services.
At the Law Office of Jodie Anne Phillips Polich, P.C., we concentrate on handling complex workers' compensation claims. We can also advise you about whether you even need a lawyer to handle a simpler workers' compensation-related issue. Our goal is to help people understand the process.
Call us today or contact us online to schedule a free, no-risk consultation.