Slip and Fall Injury at Work in Portland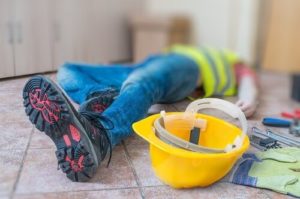 In general, slips, trips, and falls are among the most common types of accidents resulting in personal injuries. They can occur due to improper flooring conditions, dim lighting, and a lack of handrails on stairs and at heights, to name just a few examples.
In the workplace, these injuries can occur under many of the same conditions and impact workers in a variety of different occupations and job fields. As a result, they can end up causing permanent disabilities, which may prevent you from working or providing for your family in the future.
At the Law Office of Jodie Anne Phillips Polich, P.C., we understand the serious impacts fall-related injuries can have on every area of your life and how often these workplace accidents occur. As a past board member of the Oregon Workers' Compensation Board, our experienced Portland workers' compensation attorney can help protect your rights in these types of cases, so you can seek the benefits you need to recover.
Common Causes of Slip & Fall Accidents at Work in Portland
The Centers for Disease Control and Prevention (CDC) reports that falls are one of the most common types of on-the-job accidents and can occur in any type of workplace. While workers in the construction industry, who are often required to work at great heights and on less than stable surfaces, typically face the greatest threats, office workers, retail and grocery store employees, and restaurant staff is also among those who are at increased risk. However, virtually any worker could suffer an on-the-job fall.
According to the CDC, common causes of fall accidents at work include the following:
Wet, slick, and slippery floor surfaces
Damaged flooring and holes in carpet, tiles, or other materials
Cluttered and uneven walkways and passages
Lack of proper equipment for reaching items or doing repairs at heights, such as old or damaged ladders and step stools
Unprotected edges and a lack of scaffolding
Lack of lighting, handrails, and other safety protections
The CDC reports that close to 300,000 people are injured each year as the result of work-related falls, and roughly 800 die annually as the result of their injuries. In fact, the Occupational Safety and Health Administration (OSHA) rates falls as among the most potentially serious and deadly types of work-related accidents. They are ranked among OSHA's top "fatal four" on-the-job injuries, including back injuries, head injuries, muscle damage, and broken bones, which are responsible for nearly 40 percent of all work-related fatalities that occur each year in the U.S.
Does It Matter Who Is at Fault for a Slip or Fall at Work in Portland?
Falls may be the fault of the employer, such as for failing to repair damaged floor surfaces or not providing the proper equipment for climbing. Fall injuries may also be the fault of the worker, such as when an employee fails to wear shoes with non-skid soles on a job site or misses a rung on a ladder when attempting to reach objects on shelves. For the most part, who is to blame is generally not an issue in terms of your right to workers' compensation benefits.
Workers' compensation is a federally mandated, state-run program which acts as a form of insurance when workers suffer injuries on a job site or in the course of performing work-related duties. The Oregon Workers' Compensation Division (WCD) advises that you may be entitled to benefits, regardless of whether you or your employer were to blame for your accident. These include:
Coverage for your medical care, diagnostic testing, and treatments for your work-related injuries
Reimbursement for lost wages as you recover
Compensation for temporary, partial, or permanent disabilities
Job retraining, in the event you are unable to return to your prior occupation
If you do not have medical documentation of your injury or clear evidence that it was work-related, your claim for benefits may be denied. You are entitled to file an appeal in these cases. While fault is not a factor in most workers' compensation cases, your claim may also be denied if you were found to have been under the influence of drugs or alcohol at the time of the accident, or if you initiated a physical altercation with another employee which resulted in your injury.
What to Do If You Were Hurt in a Slip or Fall at Work in Portland
If you suffer injuries due to a work-related fall accident, there are specific steps you need to protect yourself and your rights to compensation. The WCD Injured Worker Guide advises that you do the following:
Report your injuries immediately to your supervisor so that an accident report can be filed.
Notify your employer and request a copy of WCD Form 801, Report of Job Injury or Illness.
Fill out the employee section of this form, and return it to your employer as soon as possible.
Make sure your employer fills out their section of the form and sends it to their insurance company. Keep a copy for your own records.
Seek medical care for your injuries and explain to your doctor that they were work-related. They will have additional forms for you to fill out and return to your employer.
Get the name of the insurance company your employer contracts with, to use as a primary contact.
In the event of fall injuries, your top priority should be getting the medical care you need. Do not downplay your symptoms or ignore your doctor's instructions regarding work or activity restrictions, as this could jeopardize your health and your rights in a claim.
Contact a Portland Slip & Fall Attorney for Help with Your Workplace Fall Injury Claim
Fall accidents at work can result in serious injuries, which can leave you with lasting impairments. At the Law Office of Jodie Anne Phillips Polich, P.C., we have been representing clients in similar matters since 2003 and can provide you the professional legal guidance you need to seek any benefits you are entitled to.
Reach out and contact our office today to request a consultation with our Portland workers' compensation attorney. We take an educational approach during these consultations and will advise you on your rights and your best course of action, regardless of whether you need a lawyer to represent you in your claim.